After a few days in DC, I stayed the remainder of the week up in Baltimore with my friends A_ and B_. Most of my knowledge about the city comes from two cultural touchstones: Hairspray and The Wire. The Wire can be a bit of a downer, so here's the cheerful opening montage from the Hairspray musical which features the main character feeding rats like they were pigeons.
As you might have guessed from my art choices, I went in with a certain attitude—lovely place, but a tad bit rough about the edges. Possibly a little dark and macabre. And oh boy, did my assumptions pay off. Baltimore was everything I wanted it to be and more.
Things the Baltimore Tourism Board Doesn't Want You to See
While walking the dog, the lovely Salome, in the local park, we saw some electric scooters that had been scooped out of the drink by magnet fishermen. They were left there in part because I assume there's no resale value, but also because the magnet fishers really just want to get some of the guns tossed into the Atlantic. Because, you know, crime.
In addition, there's the lovely Mr Trash Wheel, which removes debris from water going into the harbour. It has googly-eyes added to make it seem friendly.
And of course, I would be remise if I didn't mention the nearby fire that broke out while we were driving back from the dog park one day. Apparently it was arson, and this is not that uncommon. There were also some fellows on dirt bikes riding around while we were trying to get close to the blaze that A_ said you shouldn't yell at because they might shoot you, but that they were fine if you left them alone. I felt like I was in an episode of The Wire.
Dead Birds
Perhaps the most macabre part of visiting Baltimore was the dead birds. At first, it was just the dead seagull in the harbour that we saw on my first walk there. I snapped a picture because it fit the vibe.
But then I kept finding dead birds. There's so many that A_ and B_ kept sending me pictures of new ones after I left. What is going on in Baltimore? Do more birds die because of pollution, predators, or humans just whacking them for fun? Or have all the racoons died because of poisoned ground water, so nothing eats the dead birds off the sidewalk? There has been some illness affecting the Maryland bird population, but it seems to mostly affect grackles, starlings, and other similar birds which isn't what I observed. Bird flu also got a bunch of vultures, but maybe it's just that their chlorpyrifos insecticide ban got vetoed by the governor. Audubon Society, please find this out for me.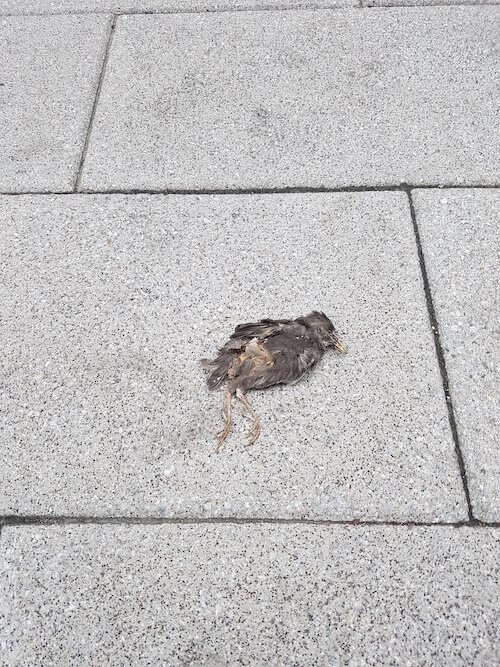 Nice Things in Baltimore
Please don't see this as me bashing the city. I genuinely enjoy this weird stuff, and it is a pleasant palette cleanser for the pristine nature of other cities (like Vancouver), and the tyranny of cute which rules most tourist attractions. There are also very many straight up nice things in Baltimore. There's the Ministry of Brewing which is located in an absolutely gorgeous old church. The beer is pretty good, and you can order from the food cart outside via QR code, and they'll deliver to your table.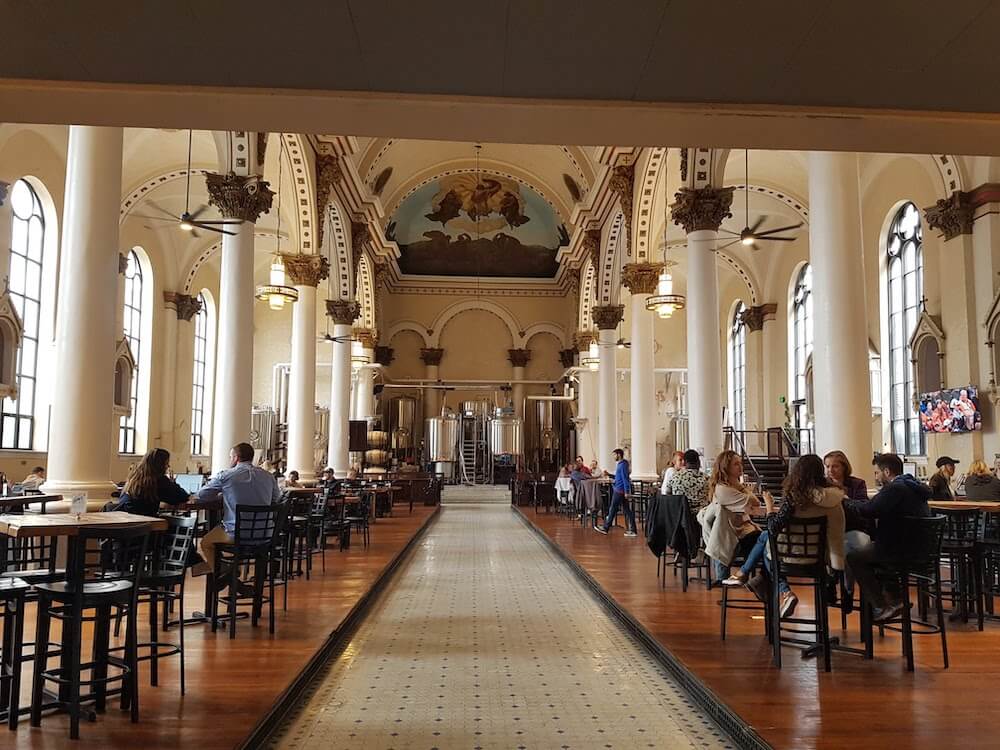 Bark Social
A_, B_ and Salome also regularly go to a dog park called Bark Social. To call this a dog park, however, is a massive understatement. Their tag line of "a dog social club" is actually pretty accurate.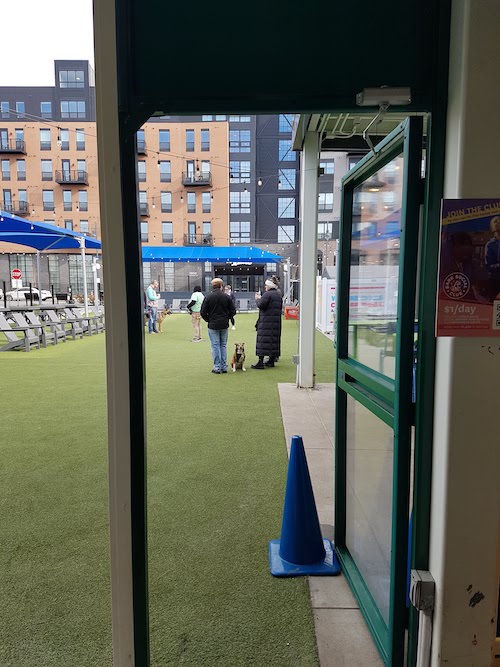 Basically it's a subscription model dog park with trained staff to keep the canine clients happy. The location we went to is in the middle of a parking lot and is overlooked by new apartment buildings, likely full of millennial professionals who can't afford to live in any other city. But it's so much more than that. You can relax with a coffee and chat with other dog owners on the many seats provided, or you can do some remote work while your puppy frolics on the astroturf. There's even food and beer available. On top of this, you can pour your own beer from 20 different taps! You just give them a credit card number, and they give you a card to track how much you pour. You settle up when you leave. Truly a magical place.
It was almost enough to get me to like dogs. Almost.
Delightful Graveyards
It would be hard to talk about Baltimore without mentioning its favourite son, Edgar Alan Poe. Poe was buried in an unmarked grave when he died (very Poe-etic), but eventually someone corrected this and put up a proper gravestone. They later moved him to a larger grave by the graveyard entrance, but I think the original grave is the best.
The graveyard itself is worth a wander, as there are a lot of other interesting graves. Of particular interest is a stone table that made it into Ripley's Believe It or Not, and the cluster of children's graves from the Brown family hidden behind the church. A_ also later showed me a Poe themed bar, the Annabel Lee Tavern, for super Poe nerds.
Salome
While there's more about Baltimore I'd like to get to (especially row houses and the Bromo Seltzer Tower) that will have to wait for another post as this one is already long. So I'll end with a dog. Although I am not normally much of a dog person, I got on very well with Salome. Apparently she liked me better than any previous guest, so I felt very special. I've also been instructed/threatened that I need to show as many pictures of the two of us together as possible, so here's my favourite one to round out the blog post: